Fellow Stagg X Pour-Over Set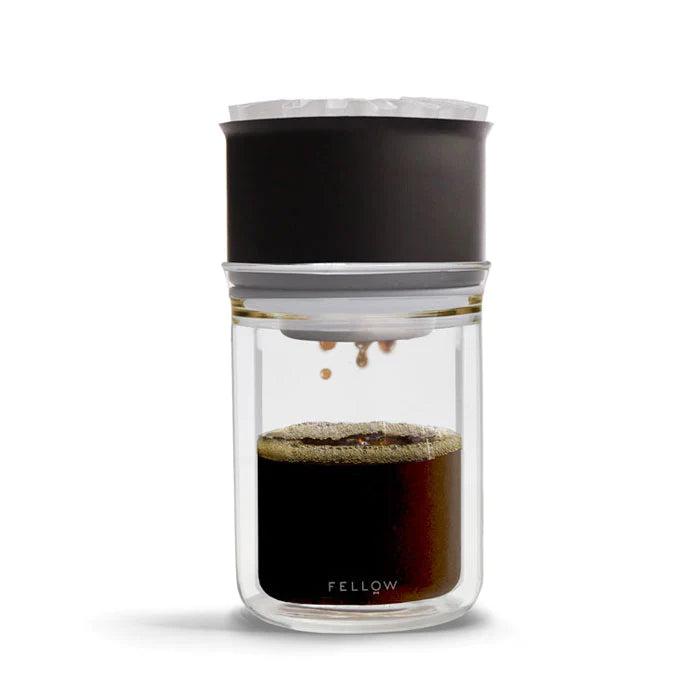 The perfect set for a pour-over party for one. Bundle it all together and save!
Stagg [X] Single Set includes one Stagg [X] Dripper, one Stagg Tasting Glass and 30 paper filters.
STAGG

 [

X

] DRIPPER

Whether you're a coffee expert or novice, Stagg [X] Dripper will help you consistently brew the perfect cup. Use the ratio aid to ensure the right amount of coffee, every time. Take advantage of Stagg's vacuum insulated body, steep slope and unique hole pattern to kick your pour-over recipe up a notch. Stagg [X]'s shorter height aligns with the traditional pour-over brewing methods of a continuous slow pour. Brewing with Stagg [X] gives you more control over your water dispersal and extraction.
STAGG

 TASTING GLASS

Blueberry, strawberry, caramel, and nutmeg… Ever see these tasting notes on bag of beans, but never understand what they're talking about? This beauties' unique shape will help you understand. The flared lip delivers coffee to your entire palate in order to taste the full spectrum of coffee flavors.
STAGG

 PAPER FILTERS

Paper filters designed specifically for the steep slopes of the Stagg [X] dripper.

Stagg [X] Dripper:
1 cup brew (300ml/10oz)
Vacuum insulated for ultimate heat retention during your brew. Stainless steel body, silicone gasket.
Steep slope to increase coffee-to-water contact and boost extraction.
No clog drainage hole and bumps.
Ratio aid measures out 1-2 servings so you always know the right amount of coffee to add. Ratio aid also acts as a drip cup for when you're done brewing.
Stagg Tasting Glass:
Single to double wall – easy to sip single wall. Double wall body to keep your drinks hotter and colder for longer.
Handblown and borosilicate – the Arnold Schwarzenegger of glass.
Flared lip – outward flared lip delivers coffee to front of tongue for more flavor.
Set comes with one, 10oz Tasting Glass
Stagg Paper Filters:
30 flat bottom paper filters
Pre-Umber is happy to offer our customers free shipping on all orders over $100.00 (Northwest Territories, Nunavut and the Yukon there is a flat rate fee)- and as a bonus, we always offer free shipping on the Aerobie Aeropress Permanent filters!  Orders qualifying for free shipping will be sent via Canada Post Expedited Parcel service.  You will also have the option to choose a faster Canada Post service if you prefer.
If your cart just doesn't seem to total up to $100.00, don't worry.  Pre-Umber offers real-time carrier shipping through Canada Post.  Just go through the checkout process until you see the shipping charges options.  You can choose various Canada Post options depending on how badly you need your coffee :)  You will see real-time pricing so you can rest assured knowing exactly what you will be charged.
Pre-Umber wants you to enjoy your coffee or merchandise as soon as we can get it to you, so we always strive to send your order out within 24 hours of having received it.
To see the Canada Post delivery standards please follow this link and use our Postal code T4J1R1. Delivery Standards
At this time Pre-Umber only ships within Canada.