Rekrow Butane Micro Burner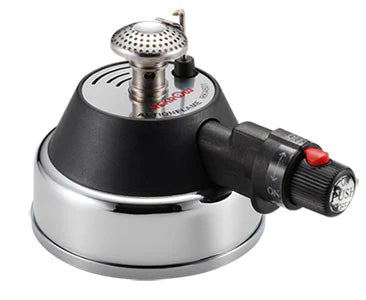 This is the most widely used and hardest working butane burner for coffee syphons. Sometimes referred to as a "yama" burner, this syphon burner from the good people at Rekrow is a quick and easy way to heat water.
Whilst we love Hario syphons here at Pre-Umber, we can't help but feel the provided alcohol burner that comes packaged with them falls a bit short of our standards in terms of control and heat consistency - an issue with all syphons, not just Hario.

You can make a good beverage with the standard issue burner and some patience but, if you want to be able to make the most out of your lovely coffee chemistry set, you need a solid butane burner.

This is the newest version of butane burner from Rekrow, the experts in butane powered products. We like the improvement to the shape and design, as well as the new safety switch! (Because what fun are flames if they aren't safe?)

Not only does this particular version look very cool when in action, it also allows precise control of heat, which is essential in achieving coffee heaven.
Pre-Umber is happy to offer our customers free shipping on all orders over $100.00 (Northwest Territories, Nunavut and the Yukon there is a flat rate fee)- and as a bonus, we always offer free shipping on the Aerobie Aeropress Permanent filters!  Orders qualifying for free shipping will be sent via Canada Post Expedited Parcel service.  You will also have the option to choose a faster Canada Post service if you prefer.
If your cart just doesn't seem to total up to $100.00, don't worry.  Pre-Umber offers real-time carrier shipping through Canada Post.  Just go through the checkout process until you see the shipping charges options.  You can choose various Canada Post options depending on how badly you need your coffee :)  You will see real-time pricing so you can rest assured knowing exactly what you will be charged.
Pre-Umber wants you to enjoy your coffee or merchandise as soon as we can get it to you, so we always strive to send your order out within 24 hours of having received it.
To see the Canada Post delivery standards please follow this link and use our Postal code T4J1R1. Delivery Standards
At this time Pre-Umber only ships within Canada.