Gene Cafe CBR-101 Control PCB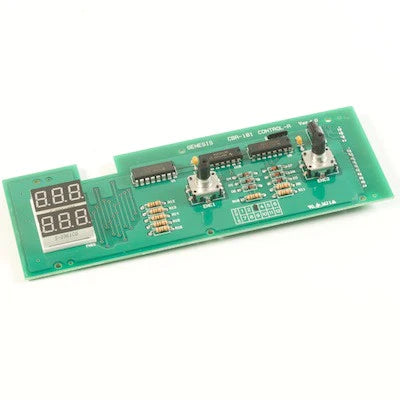 Replacement control PCB Assembly for Gene Cafe CBR-101. 
IMPORTANT NOTE: If you are replacing the control board on an older roaster, you may need to replace the control knobs as well. To determine if you do, check the back of your current knobs. The connection point on older roasters was round, and the newer ones are semi-circular.
Pre-Umber is happy to offer our customers free shipping on all orders over $100.00 (Northwest Territories, Nunavut and the Yukon there is a flat rate fee)- and as a bonus, we always offer free shipping on the Aerobie Aeropress Permanent filters!  Orders qualifying for free shipping will be sent via Canada Post Expedited Parcel service.  You will also have the option to choose a faster Canada Post service if you prefer.
If your cart just doesn't seem to total up to $100.00, don't worry.  Pre-Umber offers real-time carrier shipping through Canada Post.  Just go through the checkout process until you see the shipping charges options.  You can choose various Canada Post options depending on how badly you need your coffee :)  You will see real-time pricing so you can rest assured knowing exactly what you will be charged.
Pre-Umber wants you to enjoy your coffee or merchandise as soon as we can get it to you, so we always strive to send your order out within 24 hours of having received it.
To see the Canada Post delivery standards please follow this link and use our Postal code T4J1R1. Delivery Standards
At this time Pre-Umber only ships within Canada.