Freshroast SR800 Coffee Roaster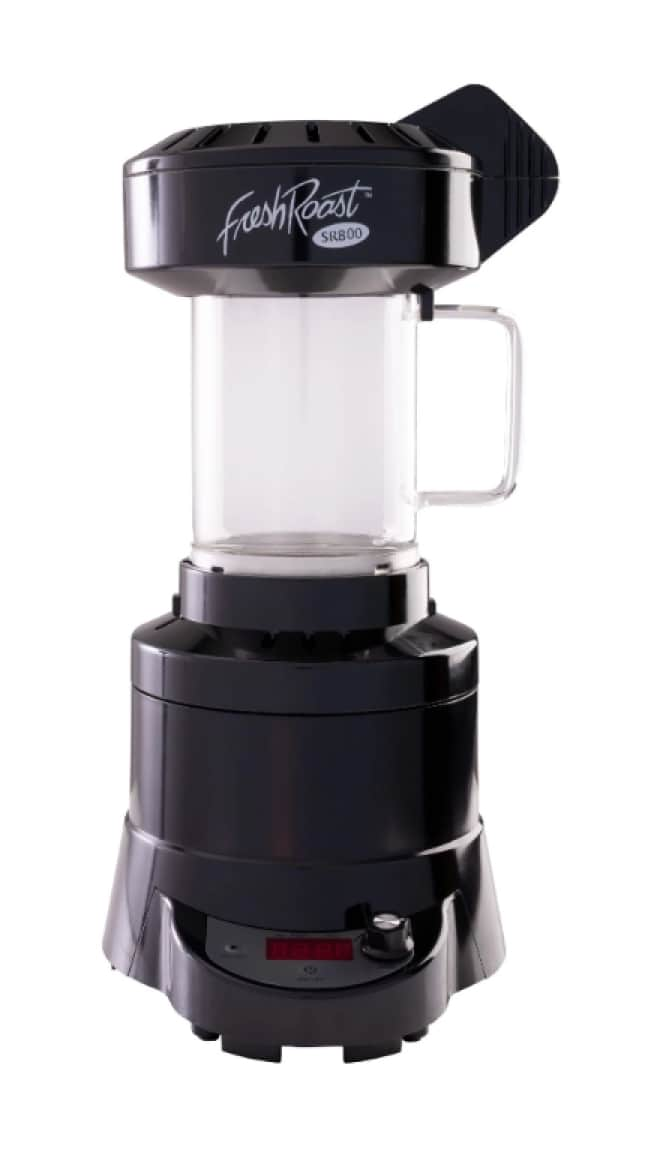 Great starter roaster loving it
The SR800 is the newest addition to the Freshroast Coffee roaster family. It is a step up from the previous models and will roast up to a 1/2 pound of wet processed coffee and about 6 ounces of dry processed coffee.

The roaster features a new heavy duty  high capacity fan and heater.  It also has an improved control board.  All adjustments are made with pushing the knob and turning to adjust the heat, fan and time.  It also features a real-time temperature readout.  A quick turn to the right will display the current temperature.
There are now 9 levels of heat adjustment compared to having a Low, Medium and High adjustment on the old units. The fan also includes a wider range of adjustment.
The chaff basket from the earlier model Freshroast series will not fit on the new SR800 or the SR540 coffee roaster.  The roasting chamber is a much larger diameter.  Users are also able to change the default start settings.  This roaster is not computer controlled.
The SR800 can roast a minimum of 4oz of beans.
It is a manually controlled machine.  
All roasters are 120V
Warranty Information:
 All coffee roasters are covered with a full 1 year *warranty on the Base Unit.
Top Cap, Chaff Basket, and Roasting Chamber have a 6 month warranty on manufacturer defects.
*Warranty void if used outside of North America
Pre-Umber is happy to offer our customers free shipping on all orders over $100.00 (Northwest Territories, Nunavut and the Yukon there is a flat rate fee)- and as a bonus, we always offer free shipping on the Aerobie Aeropress Permanent filters!  Orders qualifying for free shipping will be sent via Canada Post Expedited Parcel service.  You will also have the option to choose a faster Canada Post service if you prefer.
If your cart just doesn't seem to total up to $100.00, don't worry.  Pre-Umber offers real-time carrier shipping through Canada Post.  Just go through the checkout process until you see the shipping charges options.  You can choose various Canada Post options depending on how badly you need your coffee :)  You will see real-time pricing so you can rest assured knowing exactly what you will be charged.
Pre-Umber wants you to enjoy your coffee or merchandise as soon as we can get it to you, so we always strive to send your order out within 24 hours of having received it.
To see the Canada Post delivery standards please follow this link and use our Postal code T4J1R1. Delivery Standards
At this time Pre-Umber only ships within Canada.